Class 6
Now that it is officially the Easter Holidays, I won't be putting structured work on the website. Instead I have a couple of suggestions of family activities that you may wish to try:
1. A time capsule:
In a tin you could put photographs, diary entries from some or all of you, a current newspaper (or a printout of news stories), TV listings, favourite music at the time, drawings. You could then bury the tin in your garden or put it in the loft to open in 10 years time.
2. Bird feeders from milk containers:
I cannot take credit for this idea and must praise Sophia for this suggestion. Her and her dad created these bird feeders to put in the garden. I think they're fabulous.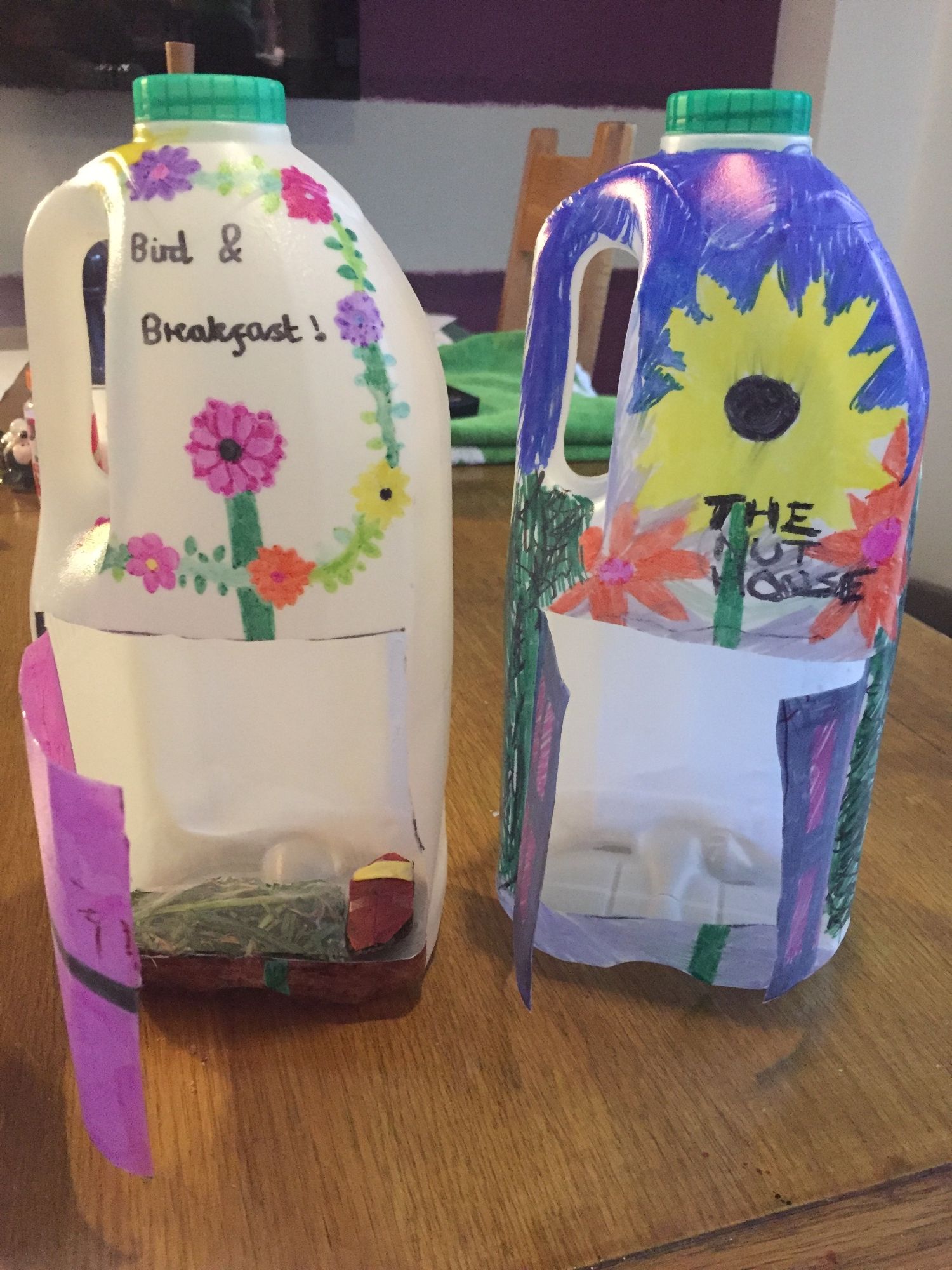 Friday 27th March,
Here is some French and RE work from Mrs Clark,
French - with your parents permission sign up to Duolingo. I have used this free app / online program many times and highly recommend it. Duolingo exercises adapt to you as you go along to help you learn effectively. There are 36 languages to choose from so either use this time to continue with your French or get ahead with the language you will be learning at secondary school!
RE - what do we know about God? BBC bitesize has some great information about how different religions view God and where they get their guidance from. See what you can find out then write a report either explaining one religion's views about God in detail or exploring the similarities and differences between two religions of your choice.
Next week would have been WWII day so look out for some exciting suggestions that will be added.
Dear Parents (Wednesday 25th March)
I hope you all received my email yesterday. Apologies that the items I attached last week seem to have got muddled up. I have now removed them and reloaded some. You should find a very useful maths activity booklet which covers all year 6 topics plus a separate revision guide for if your child has forgotten anything. I have also attached a new written arithmetic test, a times tables missing number sheet and a really good algebra challenge. To support spelling and handwriting there are handwriting sheets that I suggest your child does (perhaps one each day) and then you test them on the spellings. Please do not feel you have to print everything out - they can easily do the handwriting into their exercise book as well as the written arithmetic if they can see the questions on a screen.
Work for other subjects:
English - write a book review of Goodnight Mr Tom. If you have a kindle you could download it and read the remaining chapters. Or write a comparison between the book and the film.
Science - go into your garden or out for your daily exercise and collect at least 12 living things (bugs, leaves, flowers) and use them to create a classification key like the one you did in class. You could do this on paper and could draw the items rather than stick them on. If you can't go out then do the exercise using 12 food items or 12 toys.
History - Find out about the D-Day landings. There is some fantastic work on twinkl to do with this. You could create an information page with dates, pictures, locations and what it meant for Great Britain.
Art - with this beautiful weather, i would suggest some sketching in your garden of any spring flowers that may be out or any birds looking for nest items.
Be safe and keep in touch. Mrs Dickinson
Dear Parents (Wednesday 18th March)
We have attached some work for your child to do at home in the event of a shutdown. We are suggesting that the children work mainly on reading, maths and spag to keep up their SATs skills. We have attached a spelling activity booklet and maths activity sheets for them to complete. Your child could also continue working through their satbuster books and select activities from the learning log (attached below).
In addition to this, we are suggesting that they work on activities from various high-quality learning websites. The best one to use is Twinkl. This is a website that we often use in school. It covers all year groups (even up to key stage 3 if you have older children) and has interactive resources, worksheets and mindfulness activities across all subjects. Twinkl are currently offering one month free membership to all parents from the date of activation. Setting this up should be easy to do - go to www.twinkl.co.uk/offer and enter the code UKTWINKLHELPS
Suggested tasks on twinkl are:
year 6 reading comprehensions
year 6 spag activities
year 6 written arithmetic practice papers
year 6 maths reasoning papers
Other useful websites are
BBC bitesize key stage 2.
Hit the Button for times tables practice
Most importantly, here are our emails:
mdickinson@westonturville.bucks.sch.uk cclark@westonturville.bucks.sch.uk
If we are on an extended shutdown then please keep in contact as we will add suggestions to this list.
Thank you, as always, for your support.