Lockdown project: Families donate their creations!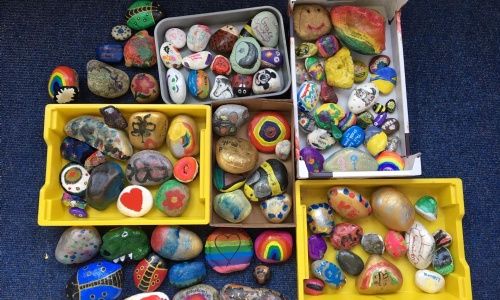 During lockdown pupils, families and staff have been taking part in two creative projects.
The first project was the brainchild of some teachers running the keyworker childcare group. The children had cleared a garden area outside the Lower Junior block and planted it up. They started painting rocks and pebbles to decorate the area and the idea was born! We would like to create a lasting memorial to the lockdown and have already received lots of colourful rocks, all of them different. You can contribute too! Just paint a rock (any colour, any design), pop your name on it somewhere and if possible varnish it so it lasts longer. Then drop it off on the step outside the school's main entrance.
The second project is a bunting project. The idea there is for every child to contribute some bunting they make at home during the lockdown which will then be up in school when they come back. This will enable our children to feel more at home when they return because something they made at home will be on display. All our children are welcome to contribute! Just download the template below and print it off.